This site uses affiliate links and I may earn a small commission when you use my links and make a purchase without incurring an additional fee yourself. Many thanks for supporting this website. Please see my legal page for more details
The 4th of July is coming quickly and you want to have a Pinterest-worthy party.  Unfortunately, you're more of an Amazon Prime Mom with zero time to create an elaborate party.  Never fear!  I am here with some fun and easy ideas to turn your ordinary get-together into a truly festive occasion.
Planning a 4th of July party is actually pretty easy since your theme and colors are already decided.  All you need is some red, white, and blue and a little inspiration to throw a fantastic 4th of July party.  Let's get started with that inspiration.
Decorate the Table:  Most people I know like to use disposable plastic tablecloths for their parties. I actually prefer to invest in cloth tablecloths that can be used year after year.  So, choose a red or blue plastic tablecloth or a fun patriotic tablecloth like this one or this one.  
Mason jars or simple dollar store vases filled with red, white, and blue flowers make a beautiful centerpiece.  Scatter some glittery stars across the table. Add some festive serving pieces like this or this and your table is totally Pinterest-worthy in no time.
Decorate with Streamers:  Streamers are really inexpensive and really pack a visual punch. Add some fun paper fans and your decor will look like you hired a professional party planner.
Activities for the Kids: You can pack quite a few items in this 4th of July Party Favor.  Bubbles, coloring activities, poppers, and snacks will make sure your younger guests are entertained for hours.  Print out several copies of the 4th of July Scavenger Hunt for the little ones or play as families.  The scavenger hunt is good old-fashioned fun for all.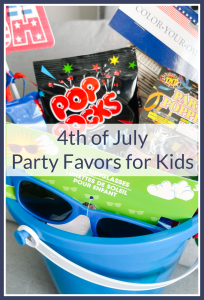 Plan Your Menu:  My advice for the menu is to keep it simple.  Classic picnic food is what everyone expects for a 4th of July party.  Ask your friends and family to bring a side dish and you will have the benefit of spending less time in the kitchen.  Use cocktail picks like this or this to add a festive touch to your simple and oh-so-delicious food menu.
Festive Beverages: Make a fun layered mocktail with cranberry juice, Sprite, and blue Gatorade. Pro tip: The beverage with the most sugar will sink to the bottom so you will want to pour the layers with the cranberry juice on the bottom, Sprite in the middle, and Gatorade on top.
For the adults, I love to pick a signature cocktail for the party. Light and refreshing lemon cocktails are some of my favorites for a hot summer party.   Here are several lemon cocktail recipes that I know your guests will love.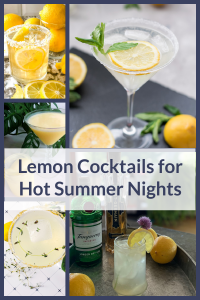 Take Lots of Pictures: I'm pretty obsessed with taking pictures and preserving memories. In fact, my family is quite familiar with my saying, "if there isn't a picture, it didn't happen."  Take your photos up a notch and turn the picture-taking into a fun activity.
Create your own 4th of July themed photo backdrop where your guests can pose and take pictures to document the day. Start with a photo backdrop frame or find a large wall to use as a backdrop.  Add a backdrop. Use balloons and fun July 4th themed props to make it as entertaining as possible.  Keep the balloons simple or try your hand at a 4th of July balloon arch.
Make a soundtrack: Combine old school and modern favorites and your guests will be singing and dancing throughout the whole party.  I like to use a waterproof speaker in case the weather changes unexpectedly or my guests get a little sloppy with their drinks.  The amount of sound small speakers put out is amazing to this 80s girl.  No need for a huge boombox anymore.
Patriotic Dessert:  It's not a 4th of July party unless you have a patriotic dessert.  You can check out your local grocery store bakery for red, white, and blue cupcakes or cookies.  If you would like to make something from scratch, I have a list of over 100 Red, White, and Blue Desserts. Each one of these desserts is really delicious and sure to impress your guests.
End your evening with a local fireworks display.  Pass out sparklers and make sure you have blankets and chairs for everyone. The other option is to make sure everyone knows about the plans ahead of time so that they can bring their own chairs. Living a connected life means enjoying time with the friends and family you love. Making memories together and of course, lots of laughter.  Don't let perfect be the enemy of incredible memories.  Relax and enjoy your guests.
Ok ladies, now it's our turn to chat about this and connect with each other.
Do you like to throw parties or do they stress you out?  What are your favorite ideas from this post? What other advice would you want to give to our friends here about planning a 4th of July party?  We really do want to build a community here that lifts other women up, shares ideas and advice, and isn't afraid to share their stories in hopes of helping others. The comments are right below the subscription box. We would love for you to subscribe and follow us on social media too.  Share your party pictures with us using #alifeconnected365.