Disclosure: Some of the links below are affiliate links, meaning, at no additional cost to you, I will earn a commission if you click through and make a purchase.
Mother's Day is just around the corner and this year, we all want to celebrate the super moms in our lives.  I've got a perfect gift that is sure to put a smile on her face.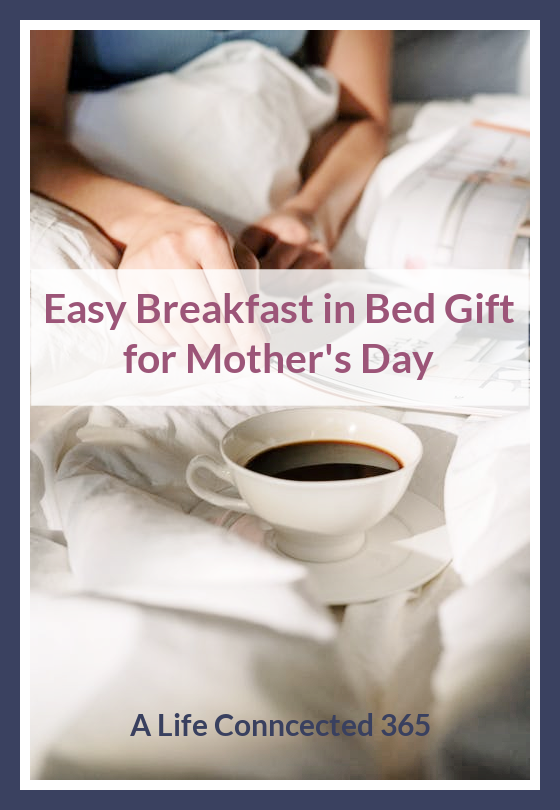 Years ago I volunteered for a mental health agency.  I served as the fundraising chair for many years and board president for a couple of more years. It really was an honor to serve this wonderful agency and community of people. One of my favorite fundraisers each year was our Breakfast in Bed Mother's Day fundraiser. It was a hit with mothers all across our county for years and years.
We put the gifts together using a basic formula each year and then added things so we were able to keep them new and exciting year after year. We delivered the gifts the day before Mother's Day so that all of the moms could enjoy breakfast in bed for Mother's Day.
I'm including two different lists.  The first list is the basic items to serve breakfast in bed. From there, I've included some bonus items if you want to make the basket extra special.  Take this idea and customize the baskets to make sure that all of the Mothers and Grandmothers have exactly what they like Mother's Day morning. Hint to my kids: It better include some really delicious coffee!
Keep It Simple Items to Include (Basic Formula)
Basket with cloth napkin or tea towel draped inside. You could also use a nice batter bowl.
Coffee mug or tea cup
Wrapped bagel and cream cheese packet
Oversized muffin
Small potted flower
Coffee (I like to use these K-Cups) or a pretty tin of tea
Small bottle of orange juice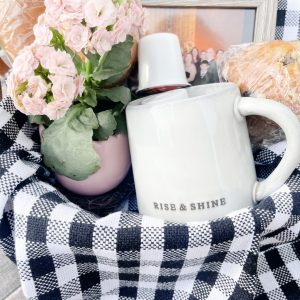 Other Items You Could Include
Small framed picture
Mom's favorite magazine
Box of candy
A book from mom's favorite author
Jewelry to make it extra special
And even more special is a handmade card or work of art made by your little one
Use your imagination! The options are endless.
Kids will love putting these Mother's Day Breakfast in Bed gift baskets together for their moms and it's easy enough for even the little ones to help.  I've noticed how much my children love to give thoughtful gifts. Just imagine the pride your children will have when they hop into bed with mom to present this wonderful gift and imagine Grandma's face as you drop off the gift basket Mother's Day eve. Enjoy your Mother's Day!
Ok ladies, now it's our turn to chat about this and connect with each other.
I really want to hear what you think about this Mother's Day Breakfast in Bed gift.  What are some other things that you can think of to put into the basket? What is the best or funniest gift you ever got for Mother's Day? I can't wait to hear your stories. Leave me a comment below.  The comments are right below the subscription box. I'd love for you to subscribe and follow us on social media too.
Until we connect again,
Christina