Every day should be Earth Day, but  we set aside April 22nd each year to celebrate our home and call attention to ways that we can better take care of our planet.  Many people think of Earth Day as worrying about a future problem. The truth is there are plenty of things we can do to make the planet a better place for us to live and enjoy now.
Kids are never too young to start learning about protecting the planet we live on.  Today, we are sharing lots of fun activities for you and your little one to enjoy together. Have fun and learn about Earth Day at the same time.
Watch this fun video from Jack the Kid Conservationist.
Kids like to collect things.  Take your preschooler outside for a nature walk (backyard works too) and let them collect things that appeal to their eyes and little hands. Rocks and leaves are perfect for this activity.  Take their collection home and let them sort the items they found in nature into paper bags while describing what they found.
Kids love to get dirty…..parents not so much.  We usually try to keep the kiddos clean.  Declare Earth Day a day to get messy.  Get some little pots and plant seeds or maybe even start a backyard garden.  Share the excitement of watching the seeds grow as you water the seeds and wait for them to bloom. Good seeds to get you started include snap peas, sunflowers, herbs, and cherry tomatoes.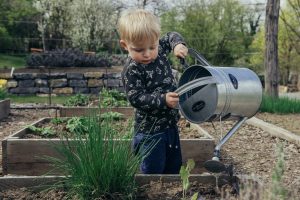 Enjoy some time coloring together with these Earth Day coloring pages for girls and coloring pages for boys.
Set up a sorting station to teach environmentally friendly habits. Mark three different containers as trash, compost, and recycling.  After each meal, take your child to the containers and have them sort their things.  What is trash?  Where do you put the apple core? What can be reused and why that is a good thing?
Take your child on a photography nature walk so that they can learn to appreciate nature.  Kids love to take pictures and see what they have photographed.  Take pictures of items in nature and talk about what you are seeing. Is that a weed or a flower? Find a rock for us to take a picture of.  What kind of bug is that? Relax and enjoy you time with your child and nature.  Its good for the soul!
  Read books about Earth Day.  Scholastic has a wonderful list of age appropriate books for preschoolers.  You can check out that list here.
Now let's connect and get a conversation started.  Have you ever participated in Earth Day events? Which of these activities do you think you will do this year?  What other things do you do to celebrate Earth Day with your preschooler?  There are always multiple opinions to every conversation. Make your voice heard by leaving me a comment below.  This is a judgement free zone full of ideas and varying opinions. I can't wait to hear what you have to say, friend.