I'm going to start this article out with a confession. Really, Christina? We just met. Yes, I know what you are thinking. My confession is this. I'm a basic white girl who has lived a very basic suburban life. That being said, I may say all of the wrong things, but I love to learn about cultures other than my own. Please, please, please if you are more knowledgeable than me, leave me a comment below with some of your stories. Real connection is what matters to me the most.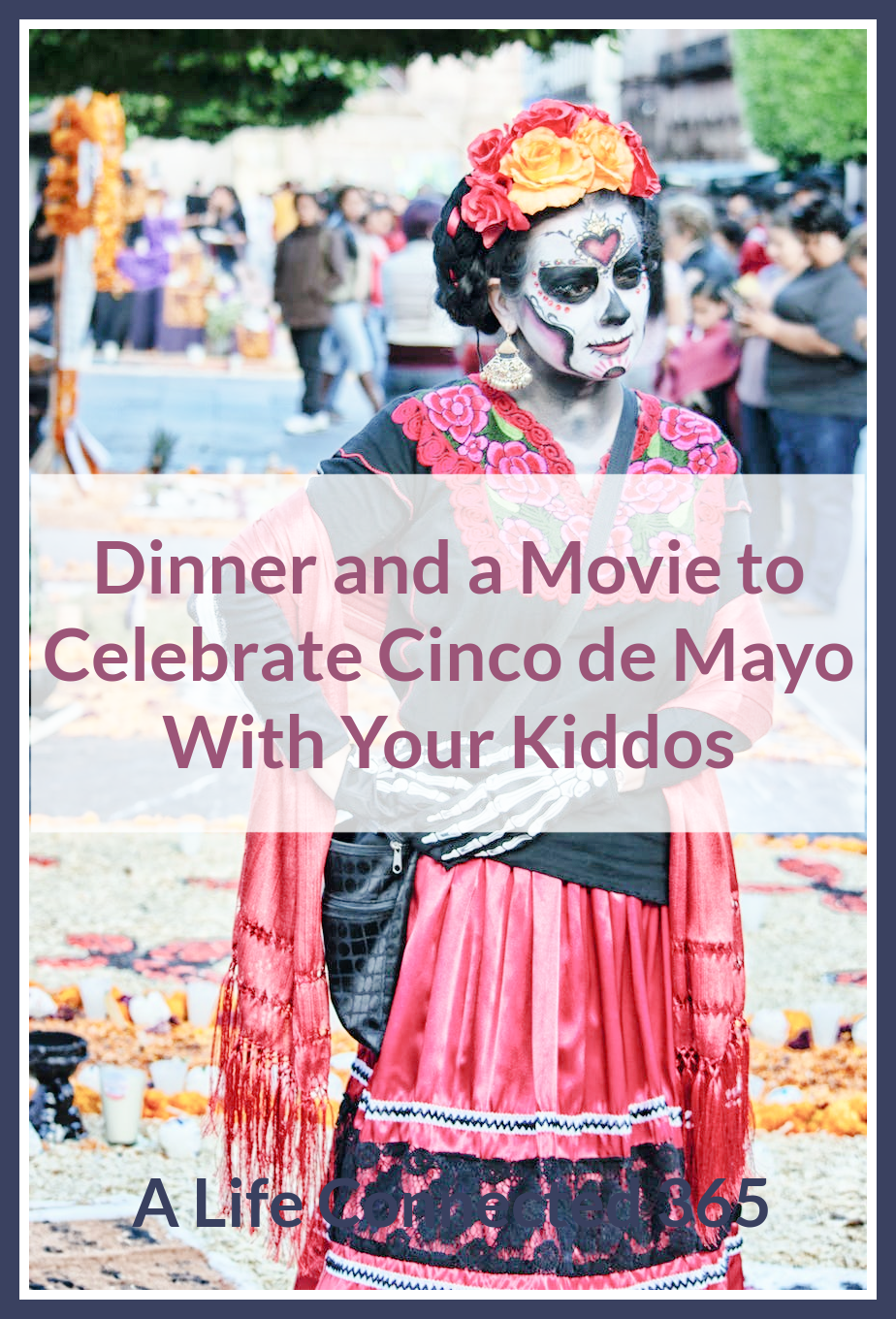 Cinco de Mayo is quickly approaching and today I am sharing a fun idea for dinner and a movie with your kiddos to celebrate the day.  I love to celebrate everything. Just ask my kids. They'll tell you I'm always celebrating something. I'll be honest though, I don't know much about Cinco de Mayo. If you don't know what Cinco de Mayo is either, let me tell you.  Or better yet, let's let the editors of Encyclopedia Britannica tell you. "Cinco de Mayo, (Spanish: "Fifth of May") also called Anniversary of the Battle of Puebla, holiday celebrated in parts of Mexico and the United States in honour of a military victory in 1862 over the French forces of Napoleon III." I had no idea, but I'm glad to know that now.
Movie
Disney's Coco is a beautiful movie from Disney and Pixar Animation Studios. The movie follows 12-year-old Miguel as he sets out with his guitar annoyed by his family's ban on music when he is transported to the Land of the Dead. He learns the meaning of family past, present, and future. As a person who cherishes family time and preserving family memories, I found this movie to be so much more than I expected. I learned to appreciate the Mexican Day of the Dead where celebrations are held to pray for and to remember friends and family members who have died. Not sadness. Celebration.
Disney's Coco is a lively movie that will keep kids entertained and teach them some aspects of Mexican culture at the same time.  I've read reviews that say the movie is culturally spot on which makes it perfect for a Cinco de Mayo viewing. There is plenty to learn and appreciate in this film.  Be aware that the skeletons may seem a little scary if you have an especially sensitive or younger child. Children age 7 and up will probably enjoy the movie the most.
Now, what to eat for Cinco de Mayo dinner? I'm glad you asked. Here are two recommendations for a delicious family celebration.  If you are feeling especially adventurous, have your kids help you make your Cinco de Mayo dinner.
Dinner
I like this Chicken Taco Rice recipe from my new friend Kylie over at Kidgredients.  Kylie says, "With all the flavours of Mexican food, it's quickly going to become a family favourite. Mexican chicken and rice for the win!"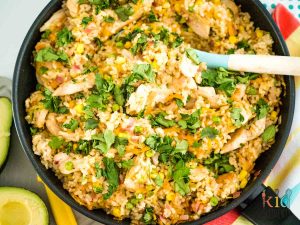 If you are looking for a meatless option, I would try my friend Lydia's Potato Tostada recipe. She blogs over at Lydia's Flexitarian Kitchen and always has my favorite meatless recipes. Lydia says, " You'll love these carrot and potato tostadas. You can dress them up with all your favorite Mexican toppings; queso blanco, guacamole, refried beans, salsa verde, sour cream or pico de gallo."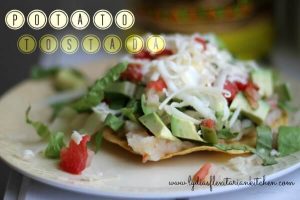 Enjoy celebrating Cinco de Mayo with your kiddos. The holiday is a good excuse to pull them off their devices and spend some good quality family time with you.  Enjoy these moments. They grow up so quickly!
Ok ladies, now it's our turn to chat about this and connect with each other.
I really want to hear what you think about your plans for Cinco de Mayo.  What are some other movies that you think would be good to watch for Cinco de Mayo? Is Cinco de Mayo a celebration of culture for you or an excuse to hang out with friends and drink margaritas? No judgment here. I think either is an excellent plan. Do you have any favorite Cinco de Mayo recipes?  I can't wait to hear your stories and see your recipes. Leave me a comment below.  The comments are right below the subscription box. I'd love for you to subscribe and follow us on social media too.
Until we connect again,
Christina