I was listening to a podcast on my way home from work the other day that was discussing manners and kindness.  While the podcaster was chatting away, my mind drifted into thoughts of how parents almost always teach their children manners in a very direct way.  Billy! Tell the  nice man, "Thank you."  Lilly! Please say, "excuse me."   I started to wonder if we do the same thing with teaching kindness?  I hate to say it, but I think most of us probably don't actually teach kindness in the same direct manner that we teach manners.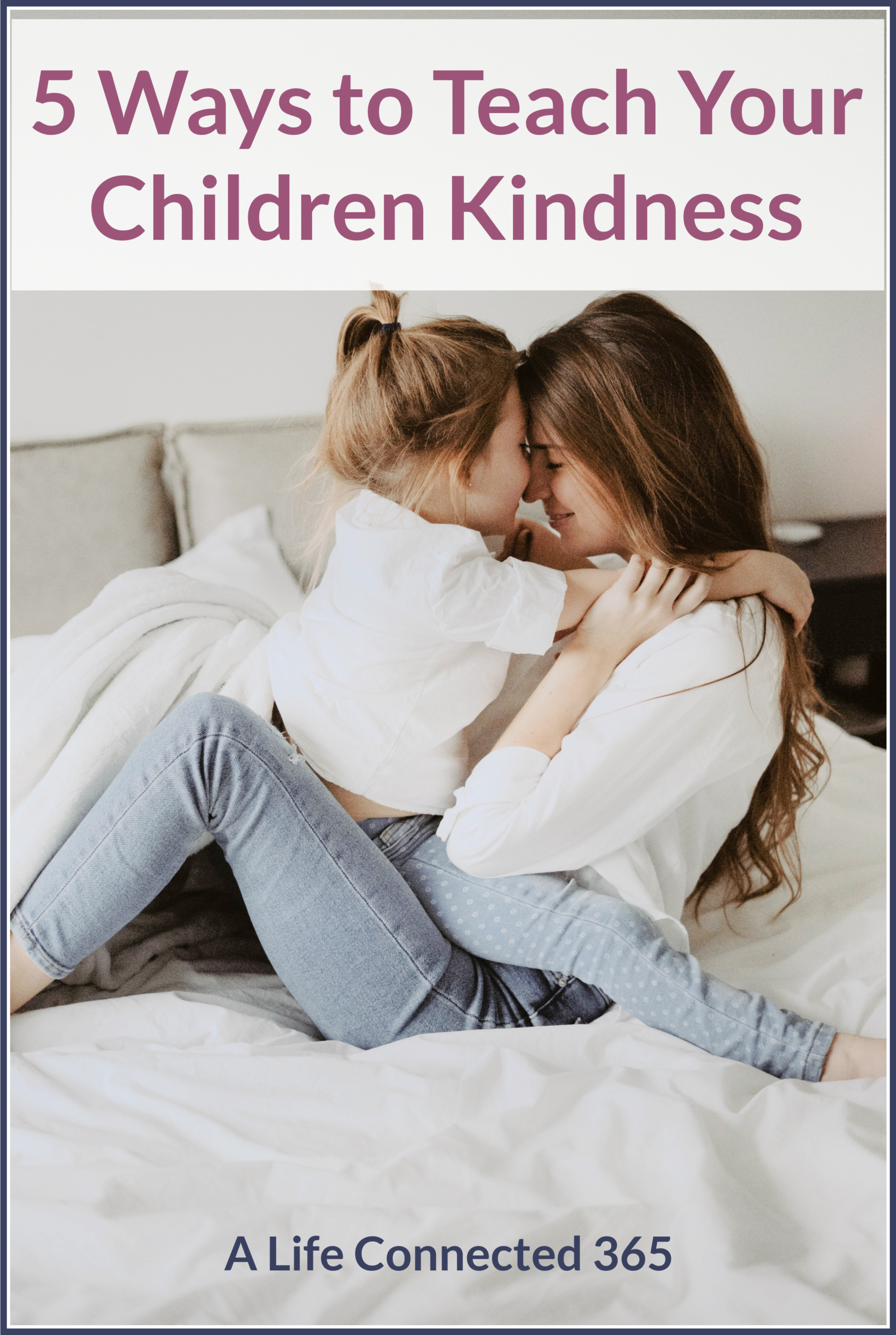 Why teaching kindness matters?
Like other behavior, kindness can be learned.  As parents, we all hope that when our children grow up they will be kind and compassionate and show empathy for others.  None of us set out to raise a mean, intolerant, or prejudiced jerk.  With each generation comes the promise of a better tomorrow and we want to help our children to be good people.
Born This Way Foundation is committed to "supporting the wellness of young people, and empowering them to create a kinder and braver world."  From May 2016 to March 2017, BTWF collected survey data from nearly 2,000 young people, ages 13 to 25, using the Born Brave Experiences Survey.  The Born This Way Foundation sums up their findings with "The biggest takeaway from these findings is that it is important to practice kindness everyday—every moment. Since no one is born knowing how to be kind, teaching kindness early on in life is important for yourself, your family, your school, the people you work with, and your community! Kindness matters."
It's obvious that teaching kindness is an essential life skill we should be teaching our children.
Here are 5 Ways to Teach Your Children Kindness.
Be kind –  Children copy the behavior that they see.  Your mini-me wants to be just like you. If you model kindness for your child.  Give sincere compliments. Help someone at the grocery store.  Have your child help send a get-well card to a friend.  Your child will copy this behavior and be kind at home, at school, and in the community.
Help Others – Volunteering in the community is an incredible way to show kindness to others.  Think about the lessons your child will learn as you volunteer at your local food pantry, local woman's shelter, or animal shelter.  Giving your time and talents to those in need is an important lesson of kindness for your child to learn.  The work is not about you, it's about helping those in need.
Play the Compliment Game – Toss a ball around from family member to family member. This can be done in classrooms or other small groups as well.  The person tossing the ball must compliment the person they are tossing the ball to.  Bonus points if the compliment is about something other than physical appearance.
  Show Your Child How to be a Helper-  Teach them that it is kind to help others in everyday life. Help clear the dishes after dinner at a friend's house. Volunteer to help a friend with a project. Encourage your child to help teachers at school.  All of these small daily lessons will add up to a lifetime of kindness.
Be a Kindness Detective- Read stories and discuss how the characters show kindness. This can be a bit of a fun detective game as you and your child go on the hunt for kind acts in the stories you read together.
To sum things up, remember that it is important to teach your children manners, but it is also important to be intentional about teaching your children kindness.  Your children need to hear from you that kindness is important.  Their brains are still developing and in order to practice a life of kindness, they must first learn kindness from you.  Be on the lookout for daily activities for you and your child to do together to practice kindness. Make it fun and enjoy the lessons together.
Ok ladies, now it's our turn to chat about this and connect with each other.
I really want to hear what you think about teaching children kindness.  Is there an idea here that speaks to you?  What are some of the things you do to teach your children kindness? I can't wait to hear your thoughts and stories. Leave me a comment below.  The comments are right below the subscription box. I'd love for you to subscribe and follow us on social media too.
Until we connect again,
Christina