Today we are talking about a subject that we probably only discuss with our best friends or maybe not at all.  Gaye, (Healthy Living and Healthy Marriage head writer) is the queen of discussing very private subjects without making them feel guilty.  She is very matter-of-fact and I so love this about her.  Today we are talking sensuality. Sensual means physically pleasing. It doesn't have to be about sex, but oftentimes we associate sensuality with sex.  Read on for some great tips to help you feel better about yourself and how that will allow you to project confidence into the world.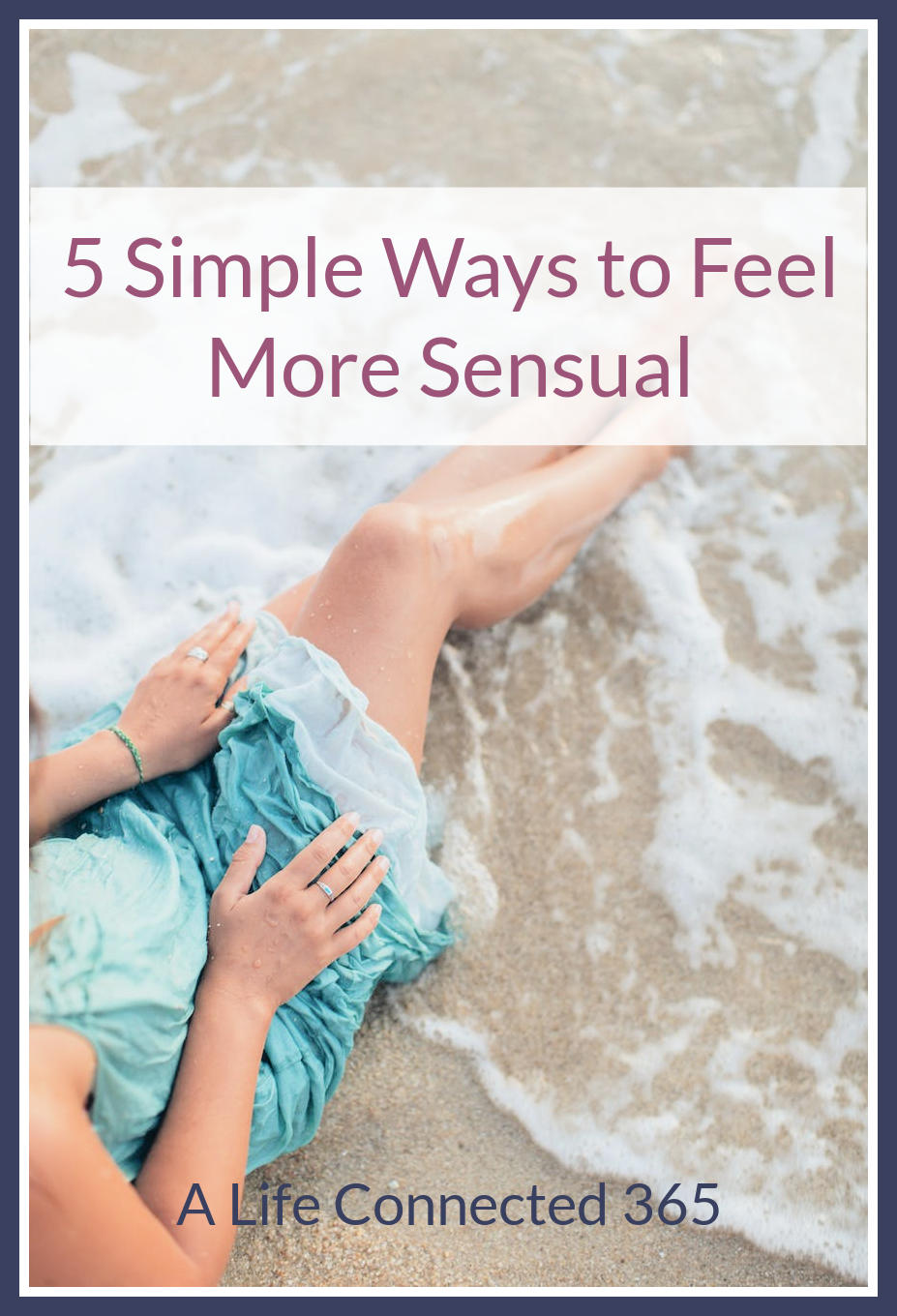 Offload some of your stress. Our bodies were designed to deal with stress in short bursts and to experience our senses regularly, but we do the opposite. We operate in stress mode most of the time, and we rarely notice what our senses are telling or showing us. We think it's normal, but it's not. But, letting go of this approach to life takes some time and effort. It may require saying 'no' or 'no more' to some things, managing your schedule in a way that frees up some of your time, or stepping away from people or situations that rev your stress engine. And in the current stressful world we're living in, it may involve focusing on what you can control and just letting go of the things you can't control.
Can you do that? Can you make a change or remove yourself from a situation that causes stress for you? You may not think you can, but I encourage you to give it a try. Make it a priority and do one or two things to reduce your stress level over the next two weeks.
Disconnect from your devices. It almost goes without saying that phones, tablets, computers, and television are damaging our ability to notice and enjoy the things that our senses are telling us. In addition, these devices add to our stress levels. So start scheduling some time to disconnect every day. Try to put your devices away for a period of time each day. Use that time to focus on something you can perceive through your sense of touch, taste, smell, or sight.
Slow down. Most of us operate at warp speed much of the time. But I've noticed that my sensual friend doesn't. Yes, she works hard and gets things done, but she also sings, paints, goes out for coffee with her husband, enjoys a glass of wine in the backyard, and takes time to enjoy good meals.
Maybe you and I can't do all of that, but we can do one or two things that allow us to slow down and experience life – not just plow through it. I told my husband that I want us to sit outside and have a glass of wine a couple of nights a week this month – rather than coming home from work every day and working until it's time to go to bed, which is what we usually do.
I also want to take an occasional Saturday (or at least half a Saturday!) off and just do something enjoyable. We usually spend Saturdays doing yard work, house work, and writing  work. Yes, those things have to be done. But they get in the way of feeling sensual and embracing the sensual woman inside of me. And, more than likely, they hinder those things for you too.
Look for ways to indulge your senses. Go outside and enjoy the sounds and smells of nature. Drink a glass of wine. Eat a meal slowly. Take a warm bath. Wear clothes that feel wonderful on your skin. Burn scented candles or diffuse essential oils. Write down 10 sense-inducing things you really want to do, and then do one each day. Or, pick one of your senses and focus on it every day this week. Then focus on another one next week.Do things that make you feel alive. I know, most of the things you do make you feel exhausted, not alive. That's just the way it is, especially if you have children at home. But it doesn't have to be that way 100% of the time.
Think of something you love – something that makes you feel vibrant and alive – and make room for it in your life. Just start doing it, even if only for 10 minutes a day. That may mean letting go of something that doesn't make you feel alive and, frankly, that's okay. Do it.
If you've lost sight of the sensual woman who lives inside of you, take some time over the next month to find and embrace her again. Focus on your senses, and let go of things that dull or overshadow them. I think you'll be amazed at the feelings you'll awaken within a very short period of time.
Need more sensuality tips? Check out Episode 91 of the Sex Chat for Christian Wives podcast – How to Feel More Sensual
Ok ladies, now it's our turn to chat about this and connect with each other.
I really want to hear what you think about this. Just between us girls……Do you value sensuality? Is it even something you think about on a regular basis? Sensuality can be difficult to think about when you have a pile of laundry and dishes waiting for you, but what one thing do you think you want to try over the next month? Gaye has some great ideas and I would love to hear which is your favorite or which you feel you can implement in your life. Maybe you have some ideas of your own that you would like to share? Go ahead! I can't wait to hear from you.