Summer is here and it's time to make some memories with your family! There is a saying that goes something like, "We only have 18 summers with our kids."  As a mother of a couple of adult children, I now understand just how quickly those 18 summers go by.  That being said, enjoy the hot summer nights, let your kids stay up a little later, and be a little "extra" for the holidays. You won't ever regret it.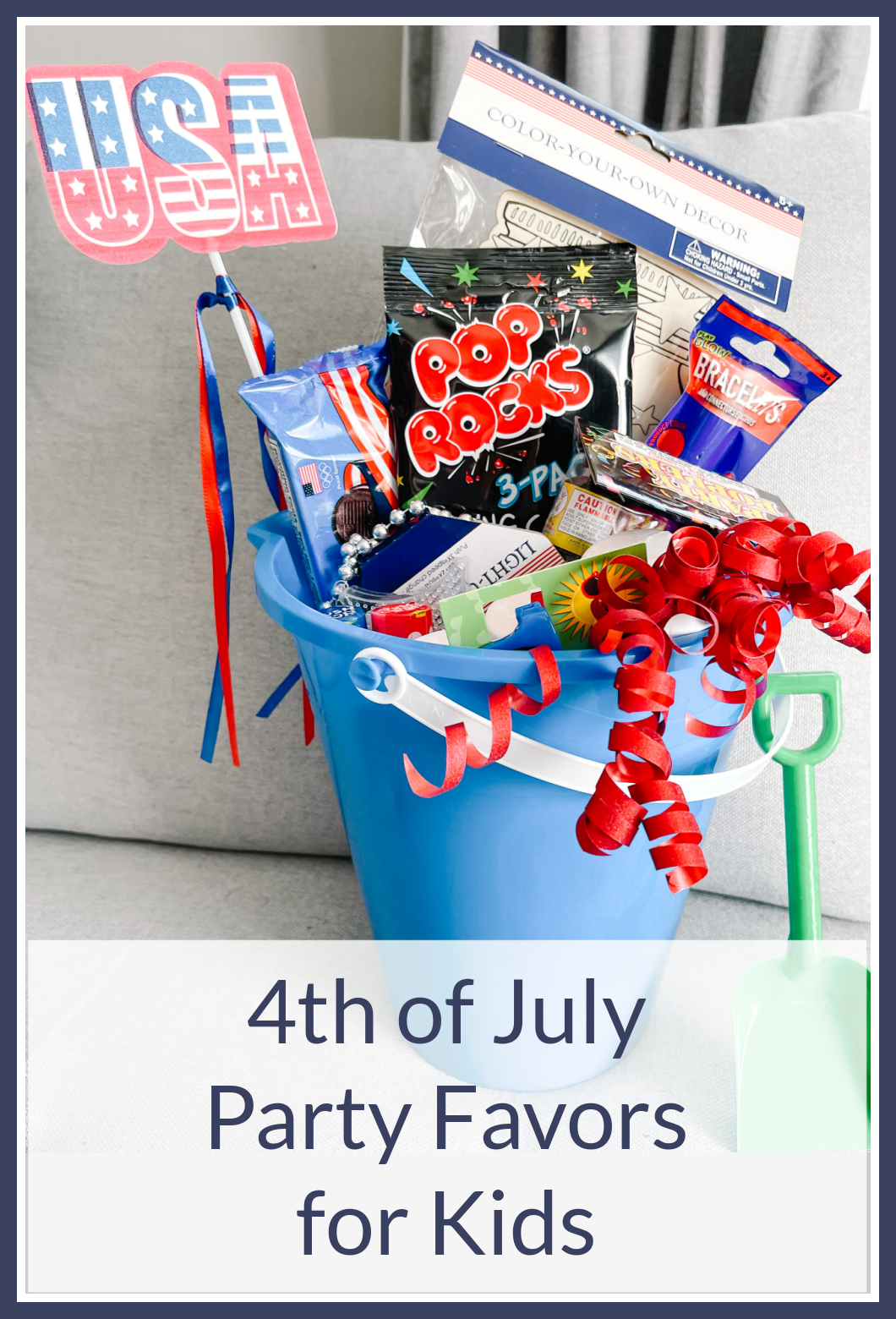 4th of July Party Favors for Kids
Today, I'm sharing a fun and easy project to bring the "extra" to your 4th of July celebration for your kids.  This 4th of July party favor is super easy to put together.  With a quick trip to Dollar Tree, you can put together a fun and festive party favor.  You can customize your party favor for your specific child or use the ideas that I have used with this example.  When making these party favors for children, keep in mind their age.  Make sure the items are age-appropriate and avoid choking hazards for the little ones.  When choosing snacks, keep in mind the potential heat. Avoiding chocolate candy is a good idea.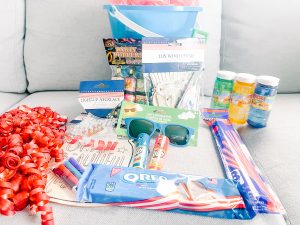 Here are the things that I chose to include in my 4th of July party favors.
Sand Bucket – to hold everything
Tissue Paper
Ribbon – for decorating
Bubbles
Glow Stick Bracelets
Pop Rocks
Push Pops
Sunglasses
Snacks – these Oreo cookies have Pop Rocks in the red, white, and blue cream
Small 4th of July Craft Kits
Light Up Star Necklace
Party Poppers
Foam USA Pick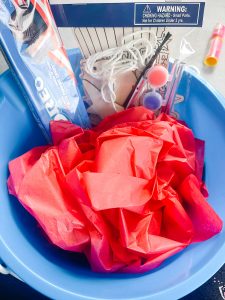 Assemble the 4th of July Party Favors
I'm sure it is pretty obvious how to assemble this 4th of July party favor.  I don't really need to give you a step-by-step tutorial, but let me share some pointers with you.  Stuff your container with balled-up tissue paper to fill in space and provide a base for your items to sit on.  You want most of the items to be poking out of the bucket rather than stuffed down in the bucket for a better display. Put taller items in the back and shorter items upfront.  Play around with it till it looks good, but don't fuss too much. Your kids will be wowed with the fun colors and hardly notice the fine details of the display.  Choose products with festive packaging in the red, white, and blue color scheme.  Finish off the favor with fun ribbons.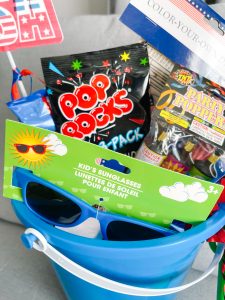 Have fun putting together this 4th of July party favor.  The kids at your party are going to love them and will always remember you as the Mom who brought the fun to their childhood.
You might also like this 4th of July Scavenger Hunt for your holiday get-together.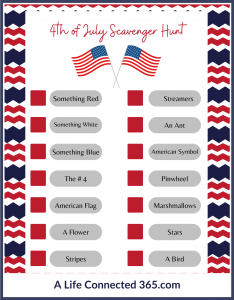 Ok ladies, now it's our turn to chat about this and connect with each other.
How many summers do you have left with your kids?  What are the things you are most excited to do with your kids this summer?  Do your friends call you "extra"?  What additional items would you add to this 4th of July party favor? Share your ideas and let's learn from each other.  I can't wait to hear your thoughts and stories. Leave me a comment below.  The comments are right below the subscription box.  I would love for you to follow us on social media also.  If you would like lots more ideas on being "extra" with your kids for the holidays, follow us on Pinterest.