I was scrolling through Facebook recently and I noticed a bunch of friends complaining abut their spouses. Thankfully, most of the posts were joking about their spouses and not really serious complaints. Still, it's rather obvious that women like to discuss their relationships with their female friends.  That's why I have invited Gaye Groover Christmus of Calm.Healthy.Sexy to be our Head Writer of Healthy Living and Healthy Marriage. Gaye is the queen of marital discussions.  She is the friend we all need in our lives.  Today, she is sharing some of her best fun and sexy ideas to spice up your marriage and strengthen the bonds that tie it together.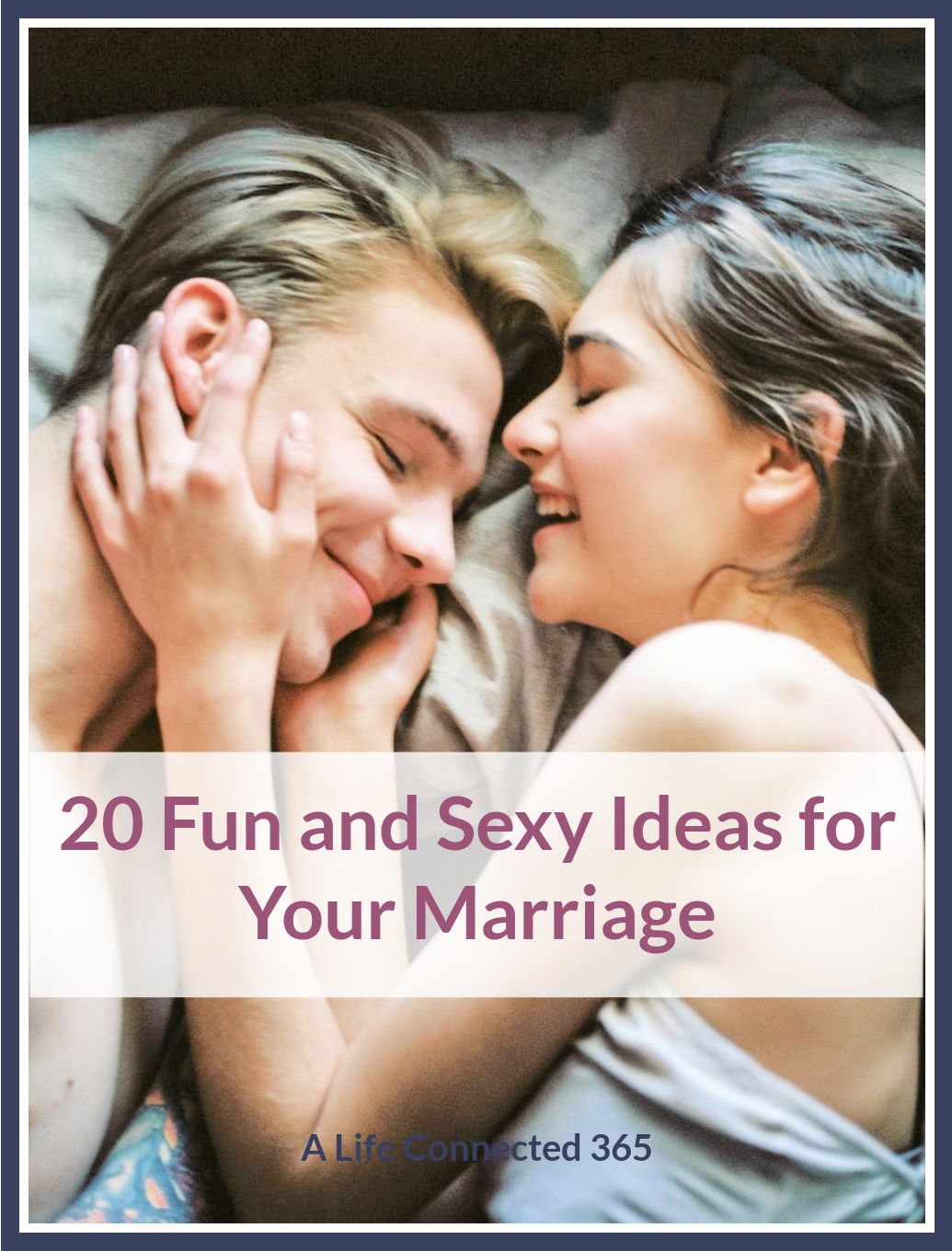 If you're like me, you probably need some help coming up with fun and sexy ideas for your marriage. (Or am I the only one…) But in order to really make those ideas work for you, you also need a plan that will help you build your confidence and embrace your sexuality.
Recently, I talked about 5 ways to feel sexier. These are important steps to take if you want to build your confidence, embrace your sensuality, and enjoy sex and intimacy in your marriage. If you haven't yet read that article, I encourage you to read it now.
Once you begin taking those steps toward embracing your sexuality, you may find that you need some ideas to help you keep moving toward increased confidence and better sex and intimacy. That's where this article comes in.
It shares 20 fun and sexy ideas, ranging from very simple to a bit more complicated. Most of them, though, are simple and realistic – they're things that even the busiest wives and moms can do to give their sexuality a boost and to really start to enjoy sex and intimacy.
If you're ready to give it a try, pick two or three of the ideas and try them over the next couple of weeks:
Read a sex-positive article, blog, or book every day for two weeks. (Check out these sex and marriage resources.)
Make a playlist of sexy music and listen to it regularly. Try playing it in your bedroom, but also listen to it at other times and let it help you get into a more sensual frame of mind. (Check out these sexy and romantic music suggestions for all kinds of music lovers.)
Arrange for a night at home alone and enjoy time with your husband without interruptions. Take time to enjoy being together in different ways – from eating dinner or watching a movie to making love. If he's moving too quickly, ask him to slow down – and let him know what feels good to you.
Give your husband a sensuous back rub or massage, or ask him to give you one. You can buy massage oil, but you can also make your own with coconut oil and a few drops of any essential oils that appeal to you.
Send your husband sexy texts throughout the day and follow up on them that night. Ask him to send some to you. He may love the idea and jump right on it, or it may take him a while to get used to it.
Wear clothing or accessories that make you feel sexy.  It can be something simple – a great pair of heels, dangling earrings, a slim skirt, a well-fitted top. This is hard to do because we tend to wear clothes that help us get the job done – at home or at the office. But those clothes usually don't help us feel sensual or sexy.
Buy and wear lingerie that makes you feel sexy. Wear what makes you feel good, not somebody else's idea of what it means to be sexy. If you feel comfortable in it, you're much more likely to feel sexy in it. And wear it on "regular" days sometimes, not just on date night.
Set a romantic mood in your bedroom, with candles, scents, dim lighting and/or music. If your bedroom has become the command center (or laundry center!) of your family's life, it doesn't promote sex, intimacy, or romance. So try to reclaim your bedroom for relaxing, sleeping, and making love, and then find ways to create a romantic atmosphere. (Be careful with candles in the bedroom!)
Ask for what you need in order to boost your sexuality. Many women find that they need a break from the kids, help with the house, time out of the house, time to relax in the evening, or something else in order to feel sensual and enjoy sex. This can be very hard for women, who are used to doing everything for everyone, but it's critical if you want to boost your sexuality and save your sanity.
Make love at an unexpected time or in an unexpected place. When anything becomes routine, even sex, it becomes boring. So make love at a different time or in a different place, just to shake things up a bit.
Change one small thing. And when you can't make a different time or place happen, try a small change. Even something as insignificant as putting the pillows at the foot of the bed and lying "upside down" can make a difference. (Trust me on this one!)
Take a shower together. Hot water, slippery soap – you know it will be fun! If it seems too exposed, dim the lights and use candles for lighting.
Arrange for a night away from home and enjoy "hotel sex." Getting out of the house and away from your daily responsibilities can really make a difference in your ability to relax and enjoy sex.
Train your mind to understand that sex isn't just something for your husband. Many women have learned or allowed themselves to believe, that sex is primarily about their husbands. And when something is always for someone else and never for you, it's always going to be a chore, never a pleasure. So keep working at it until you recognize that, in every possible way, sex is for you too.
Figure out what makes your body feel good. Then do it! Take some time to explore your body, with your husband or on your own, and figure out what feels good to you. Then communicate those things to your husband and make sure that they become a part of your lovemaking.
Make love regularly.  It creates a positive cycle that makes both of you feel more loving, more relaxed, and less tense and anxious. And it puts you in a frame of mind to have sex more often.
Get in the habit of going to bed at the same time as your spouse. If you can't do this every night, try to do it 3 or 4 times per week. Going to bed together gives you time to relax together, unwind and make love.
Initiate morning sex. Or Sunday afternoon nap sex. Just something different and unexpected, to add a little bit of unpredictability to your life and marriage.
Dance together. My husband and I are not dancers, and we don't do this. But I wish we would. I can see how it could be fun and sexy, especially with the right music.
Practice moving your body in sensual ways. Check out videos for belly dancing or sensual yoga or dance. Or just move your body in ways that feel good to you. Take some time for you to learn what makes your body feel good.
Ok ladies, now it's our turn to chat about this and connect with each other.
What are your ideas for fun and sexy ideas for marriage? Please share them in the comments. Gaye and I would love to hear from you.  No judgment here.  This is a judgment-free space to talk about things that matter to us.  We really do want to build a community here that lifts other women up, shares ideas and advice, and isn't afraid to share their stories in hopes of helping others.  The comments are right below the subscription box. We would love for you to subscribe and follow us on social media too.