Today I have some light entertainment for us girls to talk about.  The 2021 NFL Draft is coming to my hometown of Cleveland, Ohio this week so I'm all kinds of football crazy right now.  I watch the NFL Draft each year as a mother who is super proud of her boys getting their first job out of college.  I've watched many of these boys play in college and cheer for them each Saturday.  I'm a huge Ohio State University Football fan so I've grown quite used to watching my boys get drafted each year. Yes, I said it.  "My boys get drafted".  Maybe it's because I'm the mother of three boys, but I find it very easy to cheer on these young men every step of the way.  I may even shed a tear or two as I watch my boys celebrate with their real family.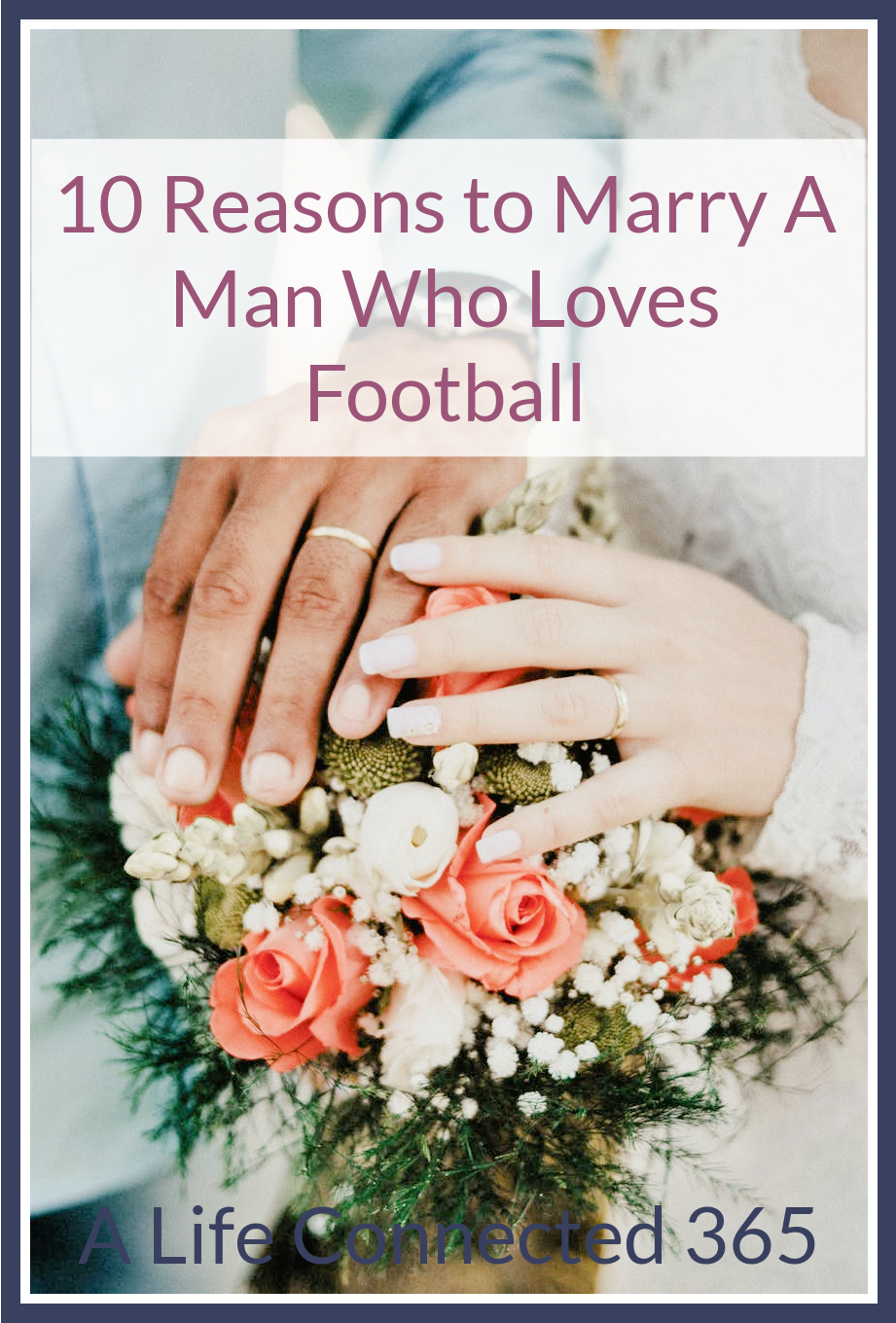 At this point, you are likely thinking to yourself, "Self, is she crazy or is she going to get to the point sometime?"  I'm getting there I promise.  While searching the interwebs for NFL Draft information I came upon this fun article: "10 REASONS TO WIFE UP THE GIRL WHO LOVES FOOTBALL" by Kayla Layla. She writes this great article (make sure you read it) about how important it is to marry a woman who loves football and what a catch she is. Kayla's article made me smile.  I am a catch. I do love football.  Here's the thing.  I've always loved football.  I have watched games with my family since I was a little one.  I don't love football because it is going to help me get a man. I love it because it's a great game.  So, today I am taking Kayla's article and turning it around as a reminder that women love football too and if a man wants to be married to this woman, he better love football.
Editorial note:  My husband is a huge football fan.  Ok, now to the 10 Reasons to Marry A Man Who Loves Football.
1. He's a rare bread, you'll never find another.
Sure there are plenty of men who like football, but do they cheer for your team? Do they really know the ins and outs of the game or are they just looking for an excuse to get drunk with their buddies?  We girls needs someone who knows the game and can call penalties right along side of us.
2. You'll never get in trouble for watching the game.
Marriage goes much more smoothly when your husband has your BBQ chicken wings and favorite adult beverage waiting for you on the couch when the game starts. There are far less arguments about needing to get things done around the house if you are both occupied watching the game. Turn up the volume and cheer your hearts out together.
3.  He's more approachable to your football buddies.
This is important.  If your friends and family don't approve of your husband, you will have a lifetime of stress and drama.  It's just so much easier if he likes football and will spend the weekends watching games with your friends and family.  Think about how embarrassing it would be if he showed up wearing the wrong colors on Sunday without even knowing it.
4. He'll indulge your fantasy football habits.
We women are complicated creatures. We probably have more fantasies out of the bedroom than we do in the bedroom.  Fantasy football is just one of them. Better to share the fantasy then go outside the marriage for satisfaction.
5.  He won't get mad at you when you choose the games over family functions.
Your football loving husband will know better than to schedule family functions during game time. Can you imagine being married to a man who would want to go to Sunday brunch during the game? Or antique shopping during the college games?  Yowza!  I couldn't handle that. I think my head would explode.
6.  You'll always have a person to attend games with
It's perfect. You are married to him and so he can't say "NO" when you ask him to go to the game with you. And since he is such a sweetie he can stand in the long beer line for you so don't need to miss any of the game.
7.  If you don't root for the same team, you'll have someone to have a friendly rivalry with.
What!!!!???? Are you even married if you cheer for different teams? That sounds like divorce court for sure.
8.  He'll root for your team if you root for his.
I suppose that could work for a little while if he is insane.  Come on!  You need to root for the correct team which is my team. Don't be an idiot!
9.  You'll always have a road trip partner for away games.
This one makes a lot of sense to me.  It's much more fun to share a hotel room with your husband than your friends. Am I right, ladies!!??  Wink! Wink!
10.  Someone else will if you won't.
It's true. A man who loves football as much as you do is quite a catch.  If you don't want someone else watching the NFL Draft with him, then you better put a ring on it quick!
Ok ladies, now it's our turn to chat about this and connect with each other.
I really want to hear what you think about this. Just between us girls……Do you love a man who loves football as much as you do? Do you love to show off your husband's football knowledge to all of your friends? Do you watch the NFL Draft? Do you feel that having things in common is important to a marriage? And the most important question………..Where do you think my boy Justin Fields is going in the draft?  Leave me a comment in the comment section below.
Go Buckeyes!