Gaye from Calm.Healthy.Sexy. is back today to chat with us about meal planning for busy women.  As busy women, we know that our time is precious and we want to get as much out of that time as possible. Gaye is sharing practical tips to help us make the most of our time and still eat healthy foods.  I personally use many of Gaye's tips and find them to be so helpful.  Keep reading for tips to bring some sanity back to your meal planning.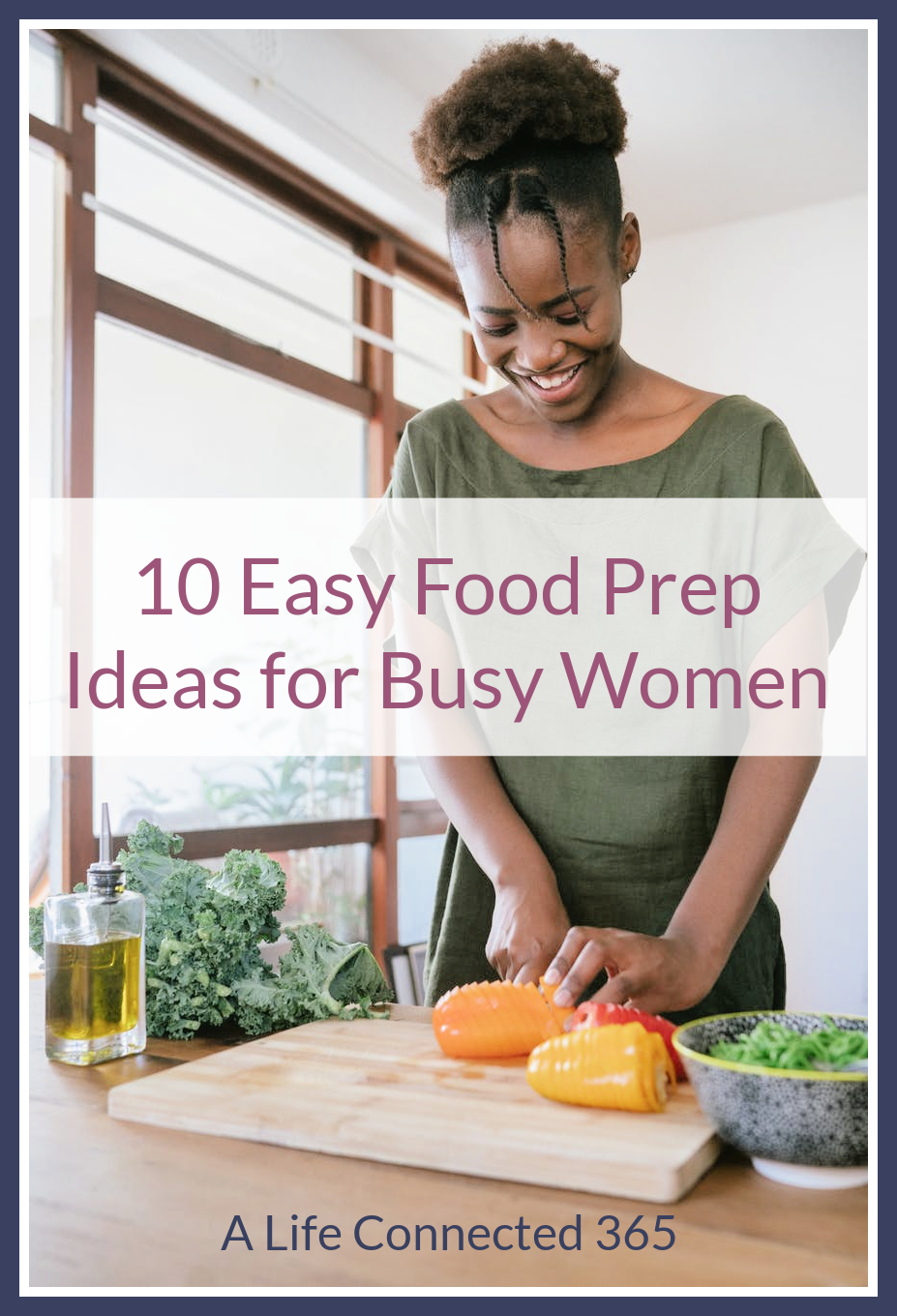 If you've spent any time on Pinterest, you've probably seen beautiful pins that show perfect weekly meal prep – a week's worth of fruits, vegetables, meals, and snacks, all perfectly portioned in matching containers, lined up neatly in a clean and organized refrigerator.
And those pins invariably link to a gorgeous blog where a fun, healthy, and cheerful blogger shows you how she prepped all of that food and cooked three healthy meals, all on a Sunday afternoon. Her weekly meal prep is fabulous!
Weekly Meal Prep – The Ideal vs. the Reality for Busy Women
Mine, not so much. Sadly, weekly meal prep doesn't look like that at my house. Not even close. First, I don't always do it. Although I'd like to say that I prep healthy food for the week every Sunday afternoon, that just isn't the case. Sometimes, life gets in the way.
Second, when I do take some time to wash and cut up fruits and vegetables, make energy bars, pack lunches, make chili, or grill chicken breasts on a Sunday afternoon, the whole process ends up looking like a hot mess. As in a "where are my mismatched containers and who set off a small explosion in the refrigerator" kind of a mess. Or a "nobody wants to see this on Pinterest" kind of a mess.
But, even though my weekly meal prep is a work in progress, it's totally worth the effort and the mess. Because it makes my life easier and healthier for the rest of the week. It increases the likelihood that we'll have a salad for dinner, even though I didn't get home from work until 6:30. And that we'll have healthy snacks to grab for work and school, even on crazy mornings. And that I'll be able to pull together a healthy dinner, rather than rely on take-out, even on the busiest evenings.
So I encourage you, even if you don't have much time – or matching containers or a clean refrigerator – to take an hour or two on Sunday to prep some food for the week. Start small the first time and see how it works out. As you do it more often you'll develop a weekly meal prep plan that works for you. And to get started, here are 10 easy meal prep tasks you can do on Saturday or Sunday that will save time, energy, and stress the rest of the week. Pick two or three and try them out this weekend.
Wash fruits and vegetables. Decide which fruits and vegetables you'll need for the next several days and wash, rinse and dry them. Just having things washed and ready to go saves time and energy on busy weeknights, and you're more likely to use things that are ready to go. (This works for almost everything except very delicate fruits, like some berries, that shouldn't be washed until right before you eat them.)
Cut up fruits and vegetables. Now, take it a step further and cut up vegetables for salad and stir fry and vegetables to roast or steam. Cut bunches of grapes into little "trees" that are easy to grab and go. Slice up some oranges. Chop some onions and peppers if you know you'll need them in a recipe during the week.
Bake or roast some vegetables. Bake winter squash or sweet potatoes and use them as a side dish early in the week. Cut some vegetables into chunks, toss with olive oil, season to taste, and roast until tender. Serve them as a side dish during the week with grilled chicken breasts or fish.
Grate cheese. If you use grated cheese fairly often, grate a bunch of it at once. Freeze any extras that you won't use within the week. Having grated cheese ready to go in the freezer is a big time saver.
Cook brown rice. Brown rice takes a long time to cook, and if I get home at 6:30 I'm not likely to make it. But if it's already cooked and ready to go, I can heat it up quickly and easily.
Cook some chicken or beef in the Crockpot. Put some chicken breasts or a cut of beef that shreds well (I like top round London broil) in the Crockpot with a little bit of broth or water until tender. Cool, shred or chop, and use during the week in tacos, quesadillas, salads and casseroles. You can also add some simple seasonings to the chicken or beef and make a main course dish, like Spicy Italian Beef or Tex-Mex Shredded Beef.
Make healthy snacks. Organize some snacks your family likes in grab-and-go packages. Make some energy balls or bars. These are my family's

favorite homemade

 

energy bars

.

Boil some eggs. Use them for quick breakfasts – with some whole-wheat toast and fruit – or lunches or add them to salads. Eat them within the week. Once eggs are peeled, eat them within a day.
Make smoothie packs.  If you like smoothies for a quick breakfast or lunch, make up some freezer bags that include the ingredients for one or two smoothies. Seal the bags and freeze. When you need to make a smoothie in a hurry, take one of the packs out of the refrigerator, thaw for 15-20 minutes while you shower and get dressed, add liquid, and blend.
Make dough for pizza. If you have a stand mixer with a dough hook, or a food processor with a dough blade, making dough for pizza (or bread or rolls) is an easy task, because the machine does all the work. Make a batch to use early in the week (you can refrigerate it for a day or two) and another batch to freeze. Here's an

easy

recipe for pizza or bread dough

you can use.
Want more easy, healthy meal prep ideas? Lisa at BirthEatLove has a great article on batch cooking, which is especially geared toward moms with kids at home. (She has 4!) She shows several different methods of batch cooking, including doing it for several hours on the weekend and spreading it out over the week.
Ok ladies, now it's our turn to chat about this and connect with each other.
Gaye and I would love to hear from you. What kind of meal prep or food prep works best for you? Share your tips with us in the comments.  Which of Gaye's food prep ideas do you plan to try this week?  We really do want to build a community here that lifts other women up, shares ideas and advice, and isn't afraid to share their stories in hopes of helping others.  The comments are right below the subscription box. We would love for you to subscribe and follow us on social media too.